Welcome to the Sarnia Ballroom Dancing Club
WHAT'S HAPPENING ...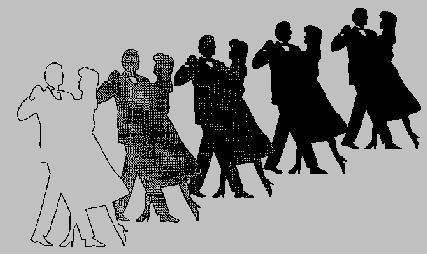 Club Dance
Saturday,
September 29,
2018 at Royal Canadian Legion Branch 62, 286 Front St N, Sarnia, ON.
Club members $20/couple; Non-members $30/couple
First time dance attendee? Check out
FREE admission
___________________________
Fall 2018 Dance Lessons and Practices
Lessons for the Fall 2018 session will include:
Beginner Waltz and Rumba 7:30 to 8:30 pm Tuesdays
Beginner Jive and Tango 7:30 to 8:30 pm Wednesdays
Intermediate Waltz and Rumba 8:30 to 9:30 pm Wednesdays
Combined practice for all the above classes will be available from 7:30 to 9:30 pm on Mondays.
Fall 2018 Sequence Dance practices will include:
Beginner Sequence 7:30 to 8:30 pm Mondays
Intermediate Sequence 8:30 to 9:45pm Mondays
Starting dates and locations for all lessons and practices will be be posted in September as school gym availablity is confirmed by the Lambton-Kent District School Board.