Welcome to the Sarnia Ballroom Dancing Club
WHAT'S HAPPENING ...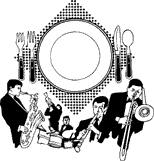 May 18 at Royal Canadian Legion Branch 62, 286 Front St N, Sarnia, ON.
6:00pm Complimentary Dinner for members only
Confirm dinner attendance by E-mail to sarnia.ballroom.dancing.club@gmail.com no later than May 7.
7:00pm Annual General Meeting for members only,
8:00pm-11:00 Dance - $20 for members; $30 for non-members.
AGM Theme – Everyone to wear Black and White!
___________________________
Dance Lessons Spring 2019
Lessons for the Spring 2019 session will include:
Beginner Tango and Jive session 7:30 to 8:30 pm Tuesdays
Beginner Waltz and Rumba session 7:30 to 8:30 pm Wednesdays
Intermediate Tango and Jive session 8:30 to 9:30 pm Wednesdays
Including combined, instructor-led practices on Mondays 7:30-9:30.
Spring 2019 Sequence Dance practice 7:30 to ~9:30 Mondays @ Lansdowne Public School
All sessions will start the week of March 25.
Click
Spring 2019 Dance Lessons and Practices
for further information.
___________________________